PROMATE 4-In-1 Multimedia Hub With Lightning Connector
$15990

$159.90
Tax included.
Shipping
calculated at checkout.
---
---
PROMATE 4-In-1 Multimedia Hub with Lightning Connector. Includes 1x RJ45 Ethernet Port, 1x HDMI Port, 1x USB-A Port, 1x Lightning Charging Bridge. Supports 1080p, Supports 10/100 Mbps.
Designed for the ultimate media experience, MediaSync-LT combines 4 essential features into a single unibody hub. The HDMI port supports video resolutions up to 1080p, while the RJ45 port provides the best streaming experience with no lags or drops. HD movies, photos, and files are transferred in a few seconds as the USB port supports a transfer rate of up to 480Mbps. The Lightning charging bridge lets you charge your device even when connected to other media outlets.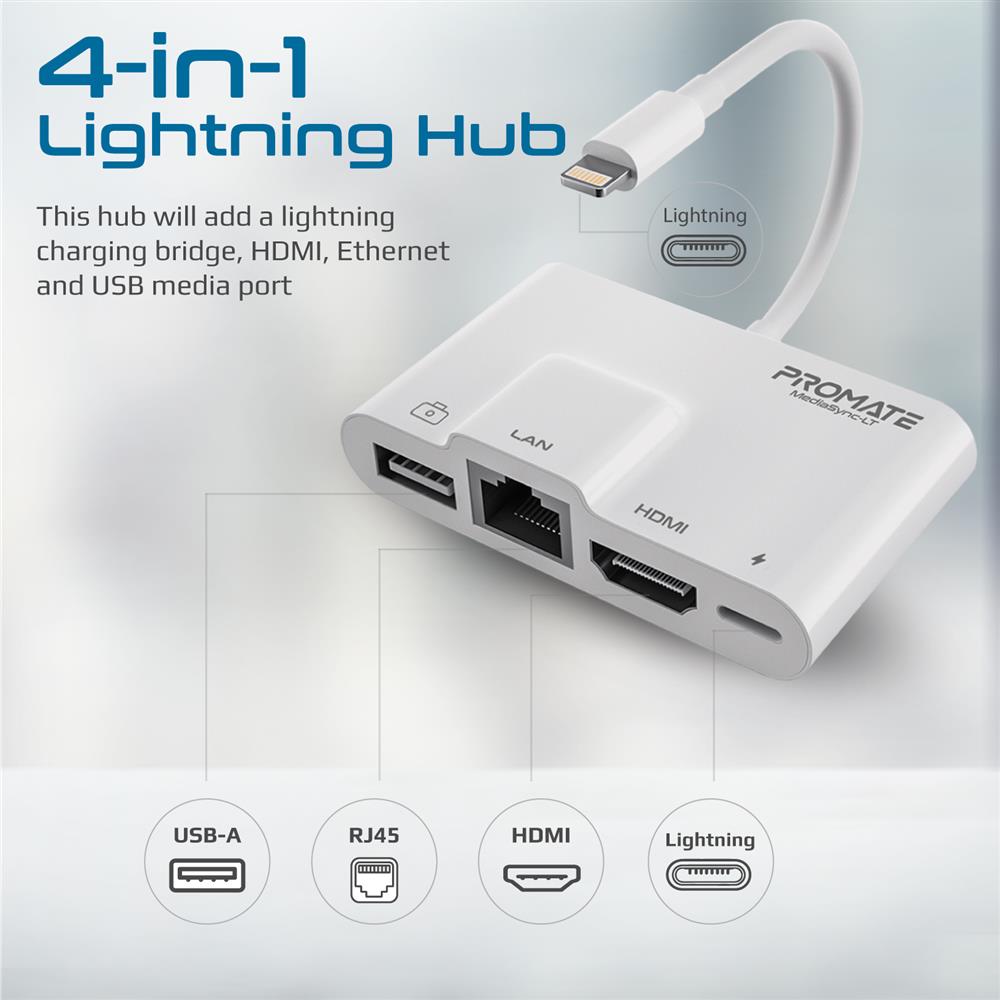 Features:
4-in-1 Lightning Hub: This hub will add a lightning charging bridge, HD HDMI, Ethernet and USB media port
Super Clarity Video: Supports projecting 1080p video from your iPhone or iPad onto display devices such as TV and projectors
Quick Transfer Rate: HD movies, photos, and files are transferred in a few seconds as the USB port supports a transfer rate of up to 480Mbps
Ethernet Support: This hub offers full 10/100 Mbps superfast gigabit Ethernet performance over the RJ45 Ethernet port.
Plug and Play: No software or drivers needed, built-in Over-current/Over-voltage/Reverse current protections and also supports Hot-swapping